Routing overview¶
ns-3 is intended to support traditional routing approaches and protocols, support ports of open source routing implementations, and facilitate research into unorthodox routing techniques. The overall routing architecture is described below in Routing architecture. Users who wish to just read about how to configure global routing for wired topologies can read Global centralized routing. Unicast routing protocols are described in Unicast routing. Multicast routing is documented in Multicast routing.
Routing architecture¶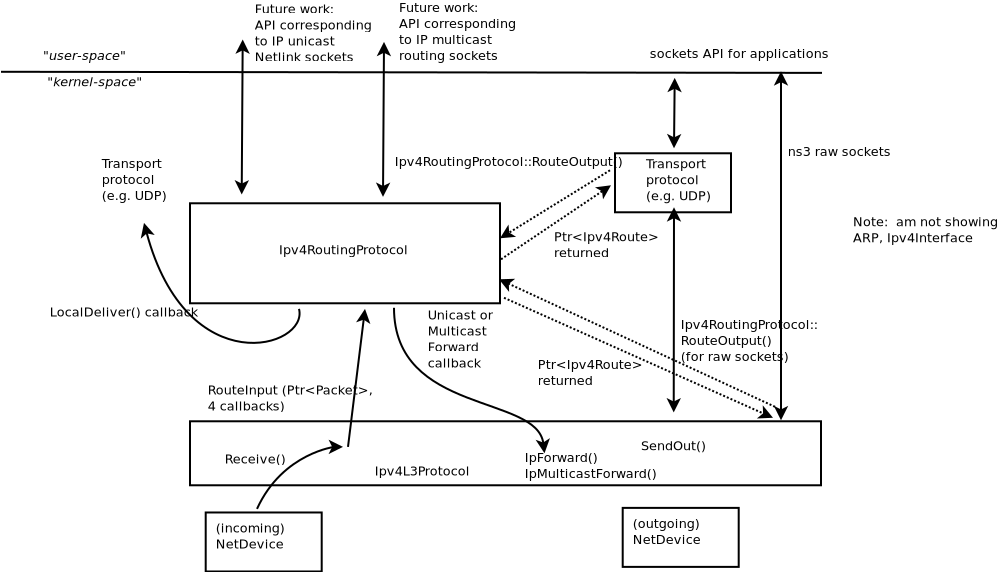 Overview of routing shows the overall routing architecture for Ipv4. The key objects are Ipv4L3Protocol, Ipv4RoutingProtocol(s) (a class to which all routing/forwarding has been delegated from Ipv4L3Protocol), and Ipv4Route(s).
Ipv4L3Protocol must have at least one Ipv4RoutingProtocol added to it at simulation setup time. This is done explicitly by calling Ipv4::SetRoutingProtocol ().
The abstract base class Ipv4RoutingProtocol () declares a minimal interface, consisting of two methods: RouteOutput () and RouteInput (). For packets traveling outbound from a host, the transport protocol will query Ipv4 for the Ipv4RoutingProtocol object interface, and will request a route via Ipv4RoutingProtocol::RouteOutput (). A Ptr to Ipv4Route object is returned. This is analogous to a dst_cache entry in Linux. The Ipv4Route is carried down to the Ipv4L3Protocol to avoid a second lookup there. However, some cases (e.g. Ipv4 raw sockets) will require a call to RouteOutput() directly from Ipv4L3Protocol.
For packets received inbound for forwarding or delivery, the following steps occur. Ipv4L3Protocol::Receive() calls Ipv4RoutingProtocol::RouteInput(). This passes the packet ownership to the Ipv4RoutingProtocol object. There are four callbacks associated with this call:
LocalDeliver
UnicastForward
MulticastForward
Error
The Ipv4RoutingProtocol must eventually call one of these callbacks for each packet that it takes responsibility for. This is basically how the input routing process works in Linux.

This overall architecture is designed to support different routing approaches, including (in the future) a Linux-like policy-based routing implementation, proactive and on-demand routing protocols, and simple routing protocols for when the simulation user does not really care about routing.
Ipv4Routing specialization. illustrates how multiple routing protocols derive from this base class. A class Ipv4ListRouting (implementation class Ipv4ListRoutingImpl) provides the existing list routing approach in ns-3. Its API is the same as base class Ipv4Routing except for the ability to add multiple prioritized routing protocols (Ipv4ListRouting::AddRoutingProtocol(), Ipv4ListRouting::GetRoutingProtocol()).
The details of these routing protocols are described below in Unicast routing. For now, we will first start with a basic unicast routing capability that is intended to globally build routing tables at simulation time t=0 for simulation users who do not care about dynamic routing.
Unicast routing¶
The following unicast routing protocols are defined for IPv4 and IPv6:
classes Ipv4ListRouting and Ipv6ListRouting (used to store a prioritized list of routing protocols)
classes Ipv4StaticRouting and Ipv6StaticRouting (covering both unicast and multicast)
class Ipv4GlobalRouting (used to store routes computed by the global route manager, if that is used)
class Ipv4NixVectorRouting (a more efficient version of global routing that stores source routes in a packet header field)
class Rip - the IPv4 RIPv2 protocol (RFC 2453)
class RipNg - the IPv6 RIPng protocol (RFC 2080)
IPv4 Optimized Link State Routing (OLSR) (a MANET protocol defined in RFC 3626)
IPv4 Ad Hoc On Demand Distance Vector (AODV) (a MANET protocol defined in RFC 3561)
IPv4 Destination Sequenced Distance Vector (DSDV) (a MANET protocol)
IPv4 Dynamic Source Routing (DSR) (a MANET protocol)
In the future, this architecture should also allow someone to implement a Linux-like implementation with routing cache, or a Click modular router, but those are out of scope for now.
Multicast routing¶
The following function is used to add a static multicast route to a node:
void
Ipv4StaticRouting::AddMulticastRoute (Ipv4Address origin,
                                      Ipv4Address group,
                                      uint32_t inputInterface,
                                      std::vector<uint32_t> outputInterfaces);

A multicast route must specify an origin IP address, a multicast group and an input network interface index as conditions and provide a vector of output network interface indices over which packets matching the conditions are sent.
Typically there are two main types of multicast routes:
Routes used during forwarding, and
Routes used in the originator node.
In the first case all the conditions must be explicitly provided.
In the second case, the route is equivalent to a unicast route, and must be added through Ipv4StaticRouting::AddHostRouteTo.
Another command sets the default multicast route:
void
Ipv4StaticRouting::SetDefaultMulticastRoute (uint32_t outputInterface);

This is the multicast equivalent of the unicast version SetDefaultRoute. We tell the routing system what to do in the case where a specific route to a destination multicast group is not found. The system forwards packets out the specified interface in the hope that "something out there" knows better how to route the packet. This method is only used in initially sending packets off of a host. The default multicast route is not consulted during forwarding – exact routes must be specified using AddMulticastRoute for that case.
Since we're basically sending packets to some entity we think may know better what to do, we don't pay attention to "subtleties" like origin address, nor do we worry about forwarding out multiple interfaces. If the default multicast route is set, it is returned as the selected route from LookupStatic irrespective of origin or multicast group if another specific route is not found.
Finally, a number of additional functions are provided to fetch and remove multicast routes:
uint32_t GetNMulticastRoutes (void) const;

Ipv4MulticastRoute *GetMulticastRoute (uint32_t i) const;

Ipv4MulticastRoute *GetDefaultMulticastRoute (void) const;

bool RemoveMulticastRoute (Ipv4Address origin,
                           Ipv4Address group,
                           uint32_t inputInterface);

void RemoveMulticastRoute (uint32_t index);