Running time
Running time evolution is quadratic since we increase at the same time the number of eNodeB and the number of UEs.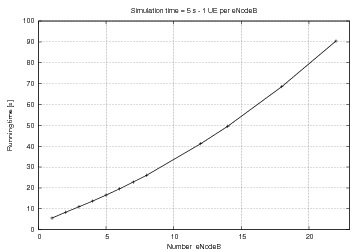 To estimate the additional complexity of the upper LTE Radio Protocol Stack model and the EPC model, we compare two scenarios using the simplified E-UTRAN version (using only PHY, MAC and the simplified RLC/SM, with no EPC and no ns-3 applications) against the complete E-UTRAN + EPC (with UM RLC, PDCP, end-to-end IP networking and regular ns-3 applications). Both configuration have been tested with the same number of UEs per eNodeB, the same number of eNodeBs, and approximately the same volume of transmitted data (an exact match was not possible due to the different ways in which packets are generated in the two configurations).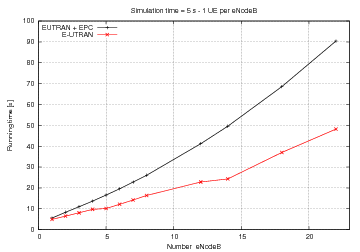 From the figure, it is evident that the additional complexity of using the upper LTE stack plus the EPC model translates approximately into a doubling of the execution time of the simulations. We believe that, considered all the new features that have been added, this figure is acceptable.
Simulation time
Finally, again the linearity of the running time as the simulation time increases gets validated through a set of experiments, as the following figure shows.